Sprint Palm Pixi is Pretty in Pink
This article contains unofficial information.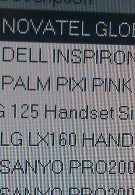 A anonymous tipster passed along to Engadget a picture of Sprint's internal computer system that reveals a pink version of the Palm Pixi. With Valentine's Day just a little less than 6 weeks away, offering up a version of the webOS device for the ladies seems not only like chivalry, but also good business sense. With the square industrial design of the Motorola DROID considered to be attractive to males, why shouldn't Palm and Sprint offer a handset with soft feminine curves, in pink. Besides, with a name like Pixi, the phone even sounds like it has been made for the ladies. No, we're not saying that there is anything wrong with a man owning the device. We're merely pointing out that giving a pink Palm Pixi to your Wife or SO would probably be well appreciated on Valentine's Day. Well appreciated.
Palm Pixi Specifications
|
Review
source:
Engadget