Sprint PCs launches a trio of EV-DO GPS phones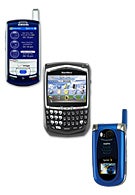 Sprint PCs just upgraded its line-up with three new EV-DO phones featuring GPS service: the Samsung IP-830W slider, BlackBerry 8703e bar and Sanyo SCP-8400 clamshell. All of the devices were expected to launch, and it is not a surprise they are here now.
Samsung IP-830W is a slider running on Windows Mobile 2005 for Pocket PC phones unlike its Verizon version (SCH-i830) that has the older 2003 version. It is EV-DO capable smartphone that also features 900/1800 MHz GSM bands for global-roaming. It slides down to reveal full QWERTY keyboard just like its predecessor (i730) but lacks the WiFi. Powered by 520MHz processor, it also has QVGA display, SD slot and Bluetooth and is offered for $599 after rebates.
The RIM Blackberry 8703e also packs QWERTY keyboard but in a candybar design. A version of it is also offered by Verizon. The 8703e is the CDMA device from RIM's 8700-series and features GPS support, 320x240-pixels display and Bluetooth 2.0 at the price of $349 with 2-years plan.
Sanyo's SCP-8400 is the successor of the 8300 – EV-DO capable clamshell with 1.3-megapixel camera, QVGA display and microSD slot for memory. It's currently offered for $99 with the contract.

Source: Sprint PCs