Sprint PCS finally announces Motorola Q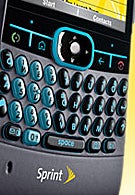 After we knew it for months, Sprint PCS finally announced it officially. A press release on its site announces that the carrier will offer the slim stylish Smartphone from Motorola, called the Q, which Verizon has for more than half-an-year. The Motorola Q will be available later this month in Sprint business channels and online, and it is expected to be offered in all channels including Sprint stores in mid-February.
Motorola Q is half-inch thick Windows Mobile Smartphone with landscape QVGA display and full QWERTY hardware keyboard. The phone is strong enterprise device, but can also do multimedia, featuring miniSD slot for memory, multimedia player, and 1.3-megapixel camera.
Source: Sprint