Sprint PCS Set to Offer Mobile Internet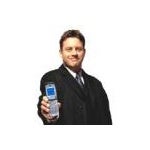 Sprint
PCS
Group set to be the first U.S.
wireless
telephone company to offer customers nationwide the ability to easily check e-mail and surf the Web with cell phones, giving on-the-go Americans access to information that once kept them tied to their desks.
In what is considered by analysts a watershed for the U.S. wireless industry -- which lags behind Europe, Japan and Korea -- the No. 4 U.S. wireless company will announce the launch of its high-speed data service across the country on Thursday, according to industry sources.
Read the complete news article
Source:
Reuters