Sprint Nextel launches first dual-mode Motorola ic502 iDEN-CDMA phone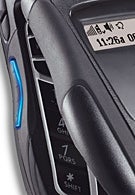 Nextel, part of Sprint Nextel, has launched the new Motorola ic502, we saw in the beginning of July. The phone is the first hybrid between iDEN and CDMA phone as it operates in Nextel's iDEN network and features PTT, but also has 1900MHz CDMA band for data.
Motorola ic502
Packed in the rugged clamshell body, is the 65k color display, GPS, JAVA and Walkie-Talkie functionality, which are all standard features for iDEN phones nowadays. The phone is available for $60 after rebates and can be purchased from the carrier's site.
Source: Nextel