Southern LINC and Motorola Introduce i830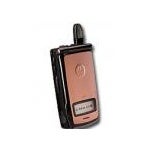 Southern LINC®, the wireless communications service from Southern Company and Motorola, Inc. today announced the availability of the much-anticipated Motorola i830 handset. The Motorola i830 is the smallest handset available from Southern LINC to date. This bronze-colored handset features a brilliant 130x130 color display, and is available for purchase through Southern LINC.
The compact, flip-style handset offers the features associated with Motorola's iDEN® technology including Instant LINC(SM) two-way radio, phone service, text messaging and data access. (a)The Motorola i830 handset also offers a speakerphone feature, with "high audio" for improved call clarity. Additionally, this new handset comes with pre-installed Java™ applications, and a host of different ring tones and wallpapers.

Full specification are available at PhoneArena.com