Sony's first "Made of Imagination" Xperia line TV ad appears, legions of small robots in tow
7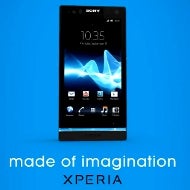 Sony outed the other day a
video detailing how it approached its first Xperia line ad campaign
after the split with Ericsson, now it has posted the resulting TV ad itself.
The "making of" video clarified that Sony has turned to the people with most creative minds it could think of - kids - with the help of acclaimed director Wes Anderson.
The first "Made of Imagination" TV ad for getting the word out about the new Xperia line of phones is the result of the 8-year-old Jake Ryan's dreams of an army of little robots doing their little things to help a giant Xperia S do its own thing.

<