Sony Xperia Z2 vs HTC One (M8): preliminary comparison
99+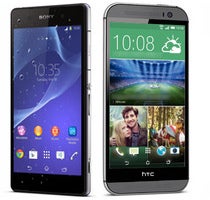 Interface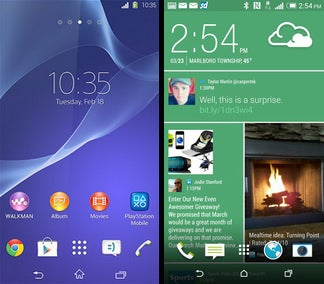 Sony is launching the Xperia Z2 with Android 4.4 KitKat running on it. The OS, of course, has been treated to a fair dose of customization, although it doesn't deviate radically from the Android experience in its vanilla form. All menus and native apps have been tweaked to some extent, and the result is a very smooth, very consistent Android UI. In addition to the usual set of personalization features, you get themes that change the color accents throughout the interface. The phone's multitasking abilities have been augmented with a set of mini apps – a calculator, a voice recorder, a notepad, and so on – which are accessed from the multitasking menu and hover above other opened apps.
HTC's approach to UI design is slightly different. On the new HTC One, we're seeing the all new Sense 6.0 user interface running on top of Android 4.4 KitKat. BlinkFeed – the news and social network feed aggregator that debuted in Sense's previous major release – is going to be present as well. In fact, the feature is going to be upgraded and will allow for content to be sorted in groups. Standard Android home screens, with icons and widgets, will be available at a swipe's distance. Furthermore, a number of gestures will be augmented into the UI, including a double-tap-to-wake one. It is also worth noting that the new HTC One will feature on-screen navigation buttons, as opposed to last year's model, which had capacitive ones.
Processor and memory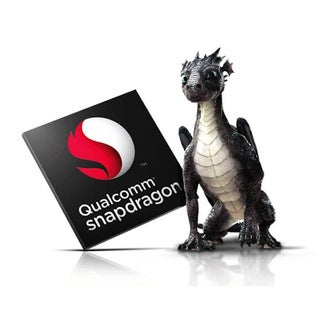 Qualcomm is known for its top-notch mobile SoC solutions, and one of its finest specimens is powering the Sony Xperia Z2. The chip of choice is the Snapdragon 801, or the MSM8974-AB, to be more specific. In the Z2's case, the SoC has a quad-core Krait 400 CPU with a maximum clock speed of 2.3GHz and Adreno 330 graphics running at 550MHz. Unsurprisingly, the HTC One (M8) is also going to be powered by the very same Snapdragon 801 SoC, so, what can we say - we expect these babies to have almost identical, top-notch performance!
The Xperia Z2, however, might have just a slight
edge
, due to it sporting the whopping 3GB of DDR3 RAM, while the new HTC One features "only" 2GB of DDR2 RAM. Yet nevertheless, we're assuming that the real-world performance of both phones should be equally flawless, with the Z2's advantage of having extra RAM making a difference only in cases of very heavy multitasking.
16GB of storage is what you get with an Xperia Z2, along with the option to augment that by throwing in a microSD card. The new HTC One will be available in 16GB and 32GB flavors, and thankfully, it will also sport a slot for microSD cards.
Camera
The Sony Xperia Z2 uses a camera that is very similar to the one found on its predecessor, the Sony Xperia Z1. Not that we have anything against that – the snapper on the latter is well capable of taking good photos, as we know from our experience with it. Besides, leaked photo samples suggest that the Sony Xperia Z2 will perform well in the camera department. For those who are into technical details, the Z2's 20.7MP camera has a 1/2.3" CMOS sensor with 1.1-micron pixels and Sony G Lens optics. Feature-wise, you get a ton of bells and whistles, including 4K and 120fps slow-
motion
video recording, augmented reality effects, Background Defocus for still images, and much more.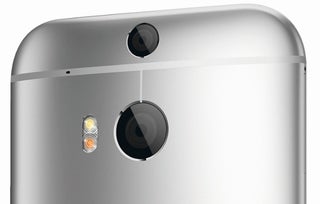 As for the HTC One (M8), leaks have revealed that the phone will use a rather unusual Duo Camera setup, which will consist of two different cameras. An upgraded 4MP UltraPixel camera with a 1/3.0 sensor size, f/2.0 aperture, and
pixel
size of 2 micrometers will be paired with a secondary cam, which will serve to capture depth information, allowing you to apply some fancy image effects, like shallow depth of field. What this enables you is to alter the focus point of an image after it has been captured. Stay tuned for our camera comparison featuring the new HTC One (M8)!
A peculiar detail that we also have to mention is that the new HTC One sports a 5MP front-facing camera with a wide-angle lens and HDR capabilities. Imagine the selfies! Of course, the 2.2MP front-facing camera on the Sony Xperia Z2 is probably going to be almost as suitable for the purpose.
Expectations
Sony is definitely not fooling around. Its Xperia Z2 is shaping up as a serious contender for the top spot in the Android hierarchy, adopting all there was to like about its predecessor and improving in many key areas where room for improvement was present. As far as we can tell, HTC is taking a similar approach. The new HTC One (M8) is not radically different from the 2013 flagship Android model, but it will introduce a number of welcome upgrades over its predecessor, including the addition of a bigger screen, a much faster processor, and, hopefully, a more capable main camera.
Of course, at this point in time, it is not possible to say whether the Sony Xperia Z2 or the new HTC One is the ultimately better smartphone. After all, we're yet to hold both handsets side by side in the flesh. What we can say, on the other hand, based on all the info that has been announced, is that the HTC flagship might have a hard time outperforming Sony's finest. Sure, the HTC One is an awesome phone, but the Z2 might be able to give buyers slightly more bang for their buck, in case they dig its glass design.