Sony Xperia Z is more than water and dust resistant: it's baby proof (video)
30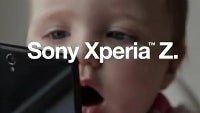 The Sony Xperia Z is not just like any other high-end smartphones. It is unique by being the only high end device that is also dust and water resistant and that's hugely important for a device that you carry with you every single day. It can survive some tough conditions.
We don't know what would be the toughest test you put your phones through, but having a baby handle a premium gadget is a chilling thought. Three UK shows that even that is not a challenge for the Xperia Z as it is 'baby proof.'
And it shows why. The irresistibly cute demo of a baby handling the Xperia Z just instantly brings a smile to our face. Check it out below.
source:
Three UK