Sony Ericsson unveils new multimedia smartphone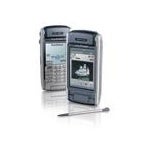 Sony Ericsson unveiled new P900 smartphone. Building on the successful P800, the P900 is smaller, faster, simpler and more flexible. It features significant upgrades such as video recording capability, 65K colour touch screen, and increased memory. The P900 is also provides full PDA/organizer functions.


The handset features VGA still camera and can also record video clips as long as the memory allows. It uses the QCIF picture size with MPEG4 video compression which is the standard supported by 3GPP. A video clip is approximately 1 MB per minute and can be inserted into MMS messages.
The P900 will start shipping to EMEA and APAC markets in Q4, for US in Q1, and the P908 will start shipping in China in Q1.