Sony Ericsson logo starts getting removed from offices as well
5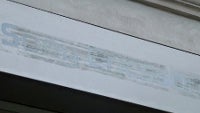 After we saw what might be
the first phone with just the Sony logo on top
, instead of the Sony Ericsson joint venture we had for the past years, now the old logo is being scrapped from other places too.
Analyst Ben Wood has tweeted a picture of the Sony Ericsson headquarters in Hammersmith, where the old logo has been erased from the entrance, but not replaced with something else yet.
Sony Ericsson will be completing the transition to being just Sony
in the first half of 2012
, free from the joint venture shackles, and working towards its dream of converging its smartphone, tablet, TV and media devices and services.
via
SlashGear