Sony Ericsson issues a firmware update for the Xperia X10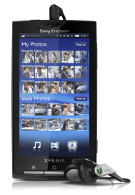 It's been a few months since the Sony Ericsson Xperia X10 hit the market, and initially it was plagued with lagging camera interface and short battery life. The company has been talking firmware update for a while and it is now out to take care of those issues.
The update improves the responsiveness of the UX user interface and plugs the power leaks that shortened battery life in idle mode before. Sony Ericsson also throws in a free backup application with this firmware version as well as enhanced PlayNow functionalities in several countries. Nothing snazzy, but it will keep you warm
until the upgrade to Android 2.1
appears on your notification bar.
Sony Ericsson Xperia X10 Specifications
|
Review
via
Engadget