So, your HTC One X is tough as nails? Now, this is a crash test to prove it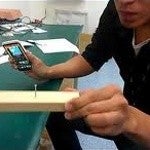 The
HTC One X
is one of the best-designed handsets we've seen recently - its unibody construction screams elite, but did you know it's also tough as nails? Yes, literally.
Now, here is a crash test that really shows how tough is the HTC One X by... using it as a hammer. It's plain funny and entertaining, and no - we definitely don't recommend you trying this at home. Or at work. Anywhere actually, if you care about using your phone for a while despite the fact that it seems completely intact after all the bashing.
Plus, it doesn't seem to be that good of a hammer. We guess, the HTC Two X could be that. Right? Watch the video below to better appreciate the engineering effort that went into crafting the One X and its awesome Gorilla Glass screen.
source: YouTube