Snapdragon vs. Hummingbird vs. OMAP - the mobile CPU war beyond 1GHz
20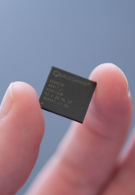 The future of smartphones:
Let's recap with a shaking hand what can we expect from the next generation of smartphones based on the features those upcoming 45nm SoCs support:
Significantly improved battery life over the current generation.

Today, if you get a full day out of your phone, you should not be calling yourself a power user. Hummingbird and A4 are already giving uptimes longer than that, but the dual-core Snapdragons and OMAP4 will probably enhance unplugged time even further. Moreover, dedicated graphics, low-power audio and GPS chips will be offloading non-typical calculations from the CPU, and we should see longer battery hours when playing music, video, or using the phone's global positioning capabilities. 120 hours of music playback is a number cited for both Cortex-A9 chipsets – the TI OMAP4, and ST-Ericsson's U8500;
Outlandishly thin and light handsets.

Being able to fit more transistors on the same space should work wonders for the design studios to make thin handsets with excellent heat dissipation, or fit new features in current form factors. Don't take our word for it, just look at the iPhone 4, the Samsung Galaxy S and the Samsung Wave. Maybe we can finally see optical zoom inside a thin handset? Here's for hoping... or at least a lighter!
Full 1080p HD video recording, decoding and on-handset editing.

Not that 720p isn't already good enough for most general purposes, but we are positive that marketing departments will spin this feature like there's no tomorrow. This would be the biggest drag on battery life, too, with claims of not more than 4hrs of full HD video on a 1500mAh battery for the Moorestown platform, although the Cortex-A9 based chipsets promise twelve. Handsets with Texas Instruments' OMAP4 family should have a slight edge here, given its hardware codecs and image processing capabilities;
Improved still photography.

Support for higher camera resolutions up to around 20MP, and more place inside the phone to fit a bigger sensor should produce some amazing results from a phone's camera. In addition, hardware image enhancement algorithms and stabilization will be supported in OMAP4. Coupled with the ability to fit more powerful LED or Xenon flash units for improved low-light performance, it will all come up to your phone being the only camera you'll need for casual snaps;
Console level gaming.

Those peak 90mil triangles per second in the current generation Hummingbird are an outstanding achievement in a mobile processing system. The OMAP4 chipset demoed an amazing proof-of-concept Blaze device at this year's MWC. The demo unit had 3-axis accelerometer, 3-axis gyro, temperature sensor, ambient light sensor, proximity sensor, digital compass and pressure (barometric) sensor to top it off. When matching the graphics subsystems to this boatload of sensors, mobile gaming possibilities are only limited by the developers' imagination;


Desktop-like web browsing, Java Script rendering, 2D and 3D graphics performance.

All the graphics enhancements should be bringing smooth and more interactive user interfaces with no discernible lag, as well as the Internet in its full glory to your small screen. TI's OMAP4 presentation hardware rendered a website for 2 sec, down from 5 sec on the previous version, so we have some idea what real-life enhancements would be. The Blaze presentation also hinted at 3D UI capabilities, and has a hardware support of Adobe Flash 10.1. Qualcomm even has a video demo of a 3D World UI for Snapdragon on its website to fill in your imagination gaps;


Additional video output options and multiple displays support.

Besides supporting 1080p HDMI-out, the new chipsets are able to support more than one display simultaneously. TI's Blaze device had two 3.7" capacitive screens at once, while outputting content to an HDTV, or powering its 15 lumen DLP Pico projector (the upcoming Samsung Galaxy Beam has a TI 6 lumen projector, for comparison). Numerous application possibilities to take advantage of more than one screen with different content running in parallel come to mind;


Touchless gesture-based UI trough visual object recognition, and 3D-HD recording.

The wildest fantasies for what a smartphone could be are visualized again courtesy of Texas Instruments with the OMAP4 platform.
The above-mentioned Blaze device was having three multi-megapixel cameras – two on the front and one on the back. According to TI, the additional camera sensors might deliver touchless gesture recognition (as in the video above), and 3D-HD (720p) video recording. Wait, what? OMAP4 allows to point and click on the projected from the phone image, or shoot stereoscopic video at 30 fps and show it on an external 3D HDTV? We like...
How far can the mobile processing industry go at that point? ARM is already exploring 28nm, and even 20nm processes, so who knows where it will all end. What is even more exciting is that smartphones with the above features are not some far-fetched possibility. Most of those mobile systems-on-a-chip are going into devices that will be announced before the year has passed. Granted, sacrifices will have to be made and not all of the possible features will be appearing in one or even a few devices at once.
We are living in a pivotal year for the smartphone industry that will shape how people access information and interact with each other wherever they are for years to come. Numerous chipset and screen technologies are revolving around even more operating systems, user interfaces and applications. Whatever the outcome of the mobile CPU war is, one thing is for sure – the consumers will win in the end.
sources:
AlienBabelTech
,
more
and
Tested