Smartphones to have "Intel Inside" starting in the second half of 2011
1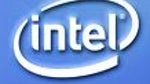 Intel might have missed the boat as the smartphone phenomenon took off, but the chip maker's CEO Paul Otellini says that his company has already won 35 contracts in the developing tablet industry, and that "You will see smartphones from premier-branded vendors in the marketplace in the second half of 2011 with Intel silicon inside them.
So far, most smartphones have had ARM processors under the hood, produced by Texas Instruments, Qualcom and Samsung. A new breed of phones using dual-core technology will be heading to market in 2011 and so far NVIDIA's Tegra 2 appears to be the early leader in that category. Looking further ahead, we
recently reported
that Texas Instruments plans on shipping a dual-core 1.5GHz chip in the second half of next year that supports glasses-free 3D photography and picture taking.
source:
WSJ