Smartphones, food and Instagram are all it takes to make the perfect prank
5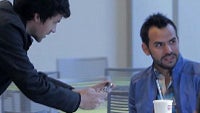 Fish and chips, peanut butter and jelly, cheese and crackers. Combinations so classic they are inseparable. But are we missing something? How about smartphones, food and Instagram? Right, now, that makes is a full list.
Smartphones have unleashed many good things, but people's obsession with Instagramming their food is probably not one of them. Yet it exists.
And when you are looking for that perfect food shot, nothing should stop you from getting it. Not even the fact that you might take a picture of a stranger's food. Ask them to adjust it nicely and bring a pal if lighting is insufficient. It's all okay in the prank video right below.
source:
TheOfficialHungry