Smartphones changing our shopping behaviour
5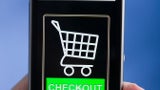 Few are the activities we enjoy more than shopping for a new smartphone, but there are some people out there that are actually more interested in discovering how we're shopping
using
our smartphones. It turns out that our handhelds are doing quite a lot to change our shopping behaviors. Not only do we tend to shop directly from the small screen, but we're also increasingly using it to check and compare prices or search for additional product information.
These findings have been made thanks to a new survey by VoucherCodesPro, which was interested to see just how much of an impact our smartphones have on our shopping habits. Thankfully, they have also put together the cute infographic that you can find in the gallery below.
Have you, guys, purchased stuff using your smartphones? Why did you prefer to do so?
source:
VoucherCodesPro
via
IntoMobile