Smartphone Displays - AMOLED vs LCD
23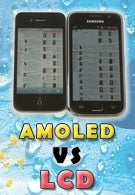 There are
many technologies
in the research labs that are aimed to improve the sunlight visibility and power consumption of modern displays. A few of them will even see consumer devices shipping in the near future.
Vouching to dispose with the plague of sunlight visibility,
Pixel Qi
(pronounced "chee") is a hybrid technology, that acts like a regular LCD. When the backlighting is turned off, it uses external ambient light reflected from the pixels to give bright, eReader type of experience with video capabilities outside under direct sunlight. Here is a video of a 10" USB-powered prototype, compared to a regular 10" LCD. With the backlighting off, the Pixel Qi draws a tenth of the power needed to run an LCD display. Various touchscreen and digitizer options can be added on top of this hybrid display as well.
Qualcomm's
Mirasol
screen uses reflective technology, similar to Pixel Qi with the backlighting off. Thus, compared to LCD, it saps power only when you turn the page, not when the image is static. It is viewable in direct sunlight, as it uses refracted ambient lighting to produce an image - the more external light, the brighter the screen, opposite of LCD. This technology has been inspired by the way butterfly wings work with light, hence the butterfly shown on the prototypes, and in the logo. The advantage over E-Ink is that it can also show quite a bit of color, and play video at 30fps, and possibly more. Rumors are that we might see it in the next iterations of Amazon's Kindle. Touchscreen options can be incorporated in the Mirasol displays too.
Now off to the cool stuff. There are a few problems facing OLED-based screen's mass adoption - lifetime and cheaper scalability. For now, AMOLED screens can be produced with decent costs only in small sizes. DuPont recently introduced a printing method for AMOLED screens, where it did a 50" screen for two hours, that should last about 15 years. Other companies are hot on the heels with similar technologies, and a breakthrough is expected when they license them to big manufacturers.
The advancements in production methods are worth pursuing since it is again OLED-based displays, where the coveted adjectives "
transparent
", "
durable
", "
flexible
", "
bendable
" and even "
wrappable
" can be applied to. Thanks to their simpler construction, and the fact that the emitting layer itself can be extremely thin, Samsung, TDK and Sony have demonstrated
durable
, transparent, and even rollable screens.
Now, to take a walk on the wild side, the ubiquitous
nano particles
can have their say in the advancements of screen technologies as well. For LCDs, they promise ultra high-definition screens, with pixel sizes eight times smaller than those of the Retina Display. For OLED-based screen, nanotechnologies research forecasts a few thousand cd/m2 brightness, compared to the 365 cd/m2 that the Galaxy S screen is achieving. What is more, a method to vertically stack layers is still in the lab stage, but holds more promises for cheaper production of large size efficient AMOLED screens than a medicine for bald men.
If we had to bet, our money would be on OLED as the technology with more development potential. Advancements in OLED's mass production, brightness and power consumption will be happening exponentially, whereas LCD probably nears its peak. Again, if one doesn't have a dozen smartphone screens in front of them to nitpick on their differences, the best modern displays do all you ask them to, and then some.
source:
DisplayMate