Small explosion at Apple supplier plant
22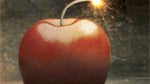 One of Apple's suppliers, Pegatron, reported that a small explosion occurred at one of its locations in Shanghai, China. Pegatron said that a few workers were injured in the blast, but the incident will not have a large impact on production.
In a statement released earlier today, Pegatron also detailed that some machinery had suffered damaged, but it would be able to readjust the facility to minimize impact on operations and revenue.
The cause of the explosion is currently under investigation. Sources close to the matter confirmed that this facility is partly used to manufacture Apple products.
source:
Reuters