Skyfire mobile web browser launched in the UK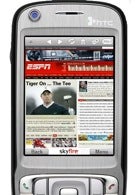 Skyfire has officially launched its mobile web browser for the chaps in the UK, offering what is referred to as "real web" and interacting with popular website tools such as Flash, Ajax, Silverlight, and Java. In perhaps one of the best features of the program, users can bookmark certain portions of a web page to obtain one-click access to the content that matters most to them. Pages can be shared via SMS, and content optimization is offered by zooming, full-screen browsing, and thumbnail views.
The latest version released is Skyfire Beta 0.8.5 and it supports VGA and WM 6.1 for Windows Mobile, allowing it to run on most new Windows Mobile phones, as well as many Nokia E and N series devices.
source:
Skyfire
via
SlashPhone