Six cheap and fun games for iOS and Android
2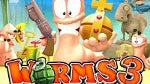 Hello, hello! There's been a new series of price cuts in the App Store and we've fleshed out 6 interesting games, currently having their prices trampled by the great big discount rock. Since we've lost no love for Android gamers, we cross-referenced the titles and lo and behold – turns out we can find most of them in the Play Store at the same low prices... go figure.
Anyway, we got some funny ones, we got some strategies, a mix of both, and some are pure timewasters. Hopefully, at least a couple of those should help carry you through to the weekend.
Check out the slideshow below and discover them yourselves. Then, let us know which deal you jumped on and how you liked the game, of course.