Sirius XM app updated to repair Froyo fizz-out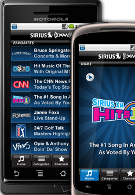 The Android 2.2 upgrade brought a lot of new features to handsets using Google's open source OS. However, one of the drawbacks of the Froyo upgrade was that it prevented some software from working. One of those is the Sirius XM app which has been "off the air" for those using an Android 2.2 powered phone.
A new build of the software, version 1.1.0, has been created and is ready to be downloaded on to your handset. Unfortunately, Sirius XM is not available in the Android Market but you can click the
link
to get a free 7 day trial, subscribe to the service (Yes Virginia, the service is not free after the trial) and download the new software. Or, from your Android browser, go to SiriusXM.com/Android.
source:
SiriusXM