Siri is strongly opinionated when it comes to movies
28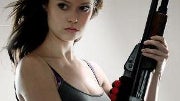 We all know that Siri isn't always the humble personal assistant that Apple portraits it to be. Besides answering your questions about the distance to the moon and the score from last night's match, she also appears to be quite opinionated when it comes to movies.
It turns out that Siri is especially fond of sci-fi movies featuring exciting stuff like A.I, cyborgs and... you guessed it - intelligent assistants. For example, here's Siri's description about Blade Runner: "
It's about intelligent assistants wanting to live beyond their termination dates. That doesn't sound like too much to ask.
" Entertaining stuff, right? Check out the following gallery for more funny responses by Siri to questions about other sci-fi movies. By the way, if you've also witnessed Siri come up with unexpected answers to your questions, feel free to share them in the comments below!