Siri in a rotary phone
1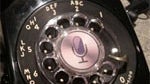 When Davis Remmel first witnessed Siri in action, he was instantly reminded of the old days when you spoke with an operator to connect your call. He set out to mod a rotary phone with Bluetooth connectivity in order to transform Siri into a modern day operator.
The hack is fairly simple. He dismantled a Bluetooth headset and placed the components into the rotary phone's handset. He then connected the headset's button to the rotary wheel so that when he dials 1, it triggers Siri on his iPhone 4S. Finally, he added the Siri logo to the center of the rotary as a finishing touch.
We're not sure how useful this is, especially since we've come this far because of our desire to not have cords, but as far as a neat little nostalgia project, this one is pretty cool.
source:
Cookies & Capacitors
via
Hack-A-Day