Sierra Wireless Announces Voq™ Professional Phones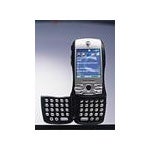 Sierra Wireless announced the Voq line of professional phones and value-added software for business users.

New Voq-branded professional phones will be based on Microsoft Windows Mobile™ software for Smartphones and will feature both a familiar phone keypad and unique flip-open QWERTY thumbpad. The Voq product line also includes other hardware and software innovations for easy information navigation and retrieval, compelling text entry, and email that is automatically updated. The first Voq model will support global markets by operating over the GSM and GPRS wireless networks.

The new phones are planned for commercial availability in the first half of 2004.
You can find more detailed information about Voq phones on this site: http://www.voq.com/