Siemens S65 images appear for the first time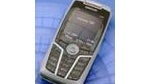 The first pictures of the new Siemens S65 started to appear today in Siemens.com. The phone is expected to be officially announced March 17th, 2004. According to the text on the images:
"A skilful professional – the new Siemens S65. With a full suite of business software, integrated 1.3 megapixel camera, extra large color screen, and a massive 32MB of memory, the sharp-styled S65 is perfect for busy professionals looking for a powerful phone with a great design".
Expect more information as soon as it becomes available.