See every Apple TV ad ever made in this video playslist
5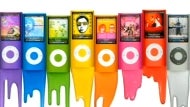 Apple is no stranger to both weird and brilliant TV ads, and now someone has gone through the trouble to collect every Apple commercial ever made in a YouTube playlist.
The ads take from the original Macintosh in 1984, to the latest iPhone 5 ad for Turkey, and are certainly fun to watch and see how Apple's marketing was developing through the years.
There are also the annoying Genius ads, and many more we'd forgotten about completely, but star a number of celebrities hired to lure you into buying an Apple product. Check out the playlist below, before being taken down eventually.