Sculpteo issues an iOS app for 3D printing of stuff
0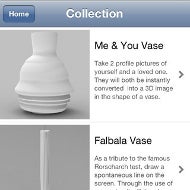 3D printing is all the rage in designer shops, as it promises quite a few advantages over conventional methods of production, especially for concept modelling, and now it has come to the iPhone as well.
The French company Sculpteo, which lets you choose an object you'd like printed, has made an iOS app, allowing you to create quick projects like iPhone cases, mugs, vases, and so on. After being done with the model, your project gets sent to Sculpteo, and they print the thingy for you, costing you about $30-$40 per item.
Of course, there might be some tweaks along the way, as not all virtually-created objects can translate the same way into the natural world, but it could be fun to test drive the future nonetheless. Watch a quick video presentation of Sculpteo for iOS below.
source:
TUAW