School is on summer break, here are some apps for those that need some tutoring before fall
4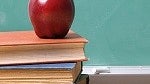 Across the US and other countries, students are finishing school for the summer. Some have had a relative carefree finish in elementary school, while others have been working through year-end exams in middle/junior-high and high-school.
Some students are free and clear for a couple months until school resumes in a few months, others may have made it by the skin of their teeth and could use some summer coaching to stay up-to-speed.
There are a number of apps that fit all ages which can help anyone hone their skills in a number of subjects. Apps to help with learning a second language, history, math and just about everything in between. We picked a couple free apps from Android, iOS and Windows Phone that some of you might find helpful.