Saygus Vphone might be the fourth Android phone for Verizon
17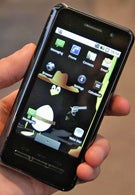 Today we came across the device that was previously rumored to become the third Android phone in Verizon's lineup. As the Motorola DEVOUR is now announced and scheduled for a March release though, this goal would be quite difficult to achieve. Well, at least we can tell you that the Saygus Vphone can still become the fourth Android for Verizon! It's almost as exciting, really. This handset is not yet officially announced, so keep in mind its future is not yet very clear. If it does launch at some point, we are hearing this might happen in May. Important specs include a 3.5-inch WVGA screen, 800MHz processor, 512MB RAM and 5MP camera. Enjoy the pics!
Saygus Vphone Specifications
|
Hands-on
Don't forget to read the full story in our
MWC Live Coverage
, where you can also find info and first-hand impressions of many other new cell phones!