Samsung's ultra-thin T509 launched by T-Mobile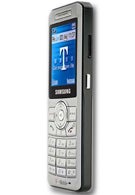 We previewed the T509 during the CTIA 2006 expo, and as we expected the phone was just launched by T-Mobile USA. The exceptionally thin candybar, full of features, is a rival of the L7 and L6 SLVR Motorola phones, which are available with Cingular at the moment, and packs color screen, camera with digital zoom, music ringtones, EDGE and Bluetooth in 0.4" "thick" body.
T-Mobile offers it for as low as $50 after a contract and mail-in rebate.

Samsung SGH-T509

Source:
T-Mobile