Samsung's new mobile-centric UHS-1 16GB microSD cards offer more speed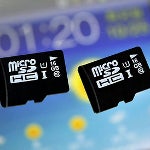 Late Wednesday, Samsung
started production of its updated microSD cards
as they are added to its product lineup. The new 16GB microSDHC cards feature the same UHS-1 (Ultra High Speed-1) speed that larger memory cards use for video cameras and DSLR single lens reflex shooters. Sequential read speeds peaked at 80MB per second, nearly 4 times the 21MB per second speed found on regular microSD cards.
These faster cards are
aimed at LTE powered smartphones and tablets
. In those devices, regular speed microSD cards could cause a problem by creating a bottleneck with the 4G connection. Samsung was able to build the cards using its new 20nm manufacturing process. While mass production of the cards has started, there is no word as to pricing or when the cards will be available to buyers.
source:
Electronista