Samsung's day-old Fascinate gets the root treatment
6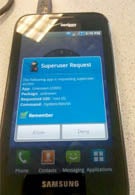 Well, we can't say we're surprised. We've been seeing new Android devices getting rooted left and right lately, and now we can add the Fascinate to that illustrious list. Just one day after its release on Verizon, Samsung's latest Galaxy S offering has been rooted by the good people at XDA-Developers.
Superuser rights were gained using an already-known root method, which is why we were able to see such a short turnaround. But hey, we're not knocking the achievement.
One interesting thing we noticed: the biggest source of excitement over this root in the forums seems to be that users can ditch the Bing search. We hope you're listening, Verizon. It seems people just aren't feeling the "decision engine". If only the people who built Android were able to offer their own solution for searching the web...
source:
XDA-Developers
via
Android Central