Samsung's Intensity and Trance to get firmware updates from Verizon today
This article contains unofficial information.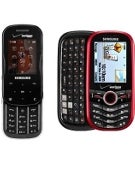 )Today could be a lucky day for those Verizon customers using the Samsung Intensity or the Samsung Trace. According to a Mobile Crunch tipster, both models are expected to be the recipients of a Verizon-sent firmware upgrade that is expected to fix a number of bugs and issues for each handset. Check out the sourcelink for a changelog on both phones. The OTA magic is supposed to have started this morning, so let us know if your device is one of the lucky ones already upgraded. About 600,000 units are affected by the upgrade to the two handsets.
Samsung Intensity Specifications
|
Review
Samsung Trace Specifications
source:
MobileCrunch