Samsung's Galaxy Tab gets rooted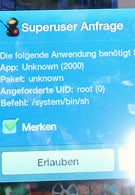 Ah, the ingenuity of German engineering. It's given us the Porsche 911, the Leica S2, and now, a rooted Galaxy Tab. Developers at Sera-Apps managed to get their hands on one of the as-of-yet unreleased Android tablets, and with a bit of magic and some old-fashioned elbow grease, have successfully gained superuser rights on Samsung's hotly anticipated answer to the iPad.
Sera-Apps haven't divulged their root method yet, probably for fear that Samsung will plug the leak before the tab gets released to the wild. They have, however, provided proof in the form of a photograph. We're not exactly sure what all that German translates to, but "superuser" comes across loud and clear.
Commence over-clocking and custom ROMs in 3...2...1...
source:
Electricpig