Samsung uploads the Fascinate source code, ROM modders rejoice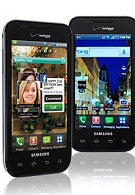 Want to out a product, but don't have enough time to nurture and baby all bugs and quirks in its firmware. It's easy, just release the source code!
That is exactly what Samsung has done with the
Fascinate
's code, a handset that
has its share of bugs
to be squashed, as most smartphones before the first firmware update do. By uploading the source code the company most likely hopes to achieve what HTC has done for its handsets. A vibrant community of hackers and ROM modders has often managed to step up, and do unthinkable thinks to stock HTC handsets, by tweaking uploaded stock firmware.
Exciting new ROMs and possibilities are ahead for the Samsung Fascinate owners. If you want to download the code, head over to the Samsung link in the source below, and type "SCH-i500" in the search box.
Samsung Fascinate Specifications
|
Review
source:
Samsung
via
AndroidGuys