Samsung posts full Galaxy S5 MWC event online: watch it here
8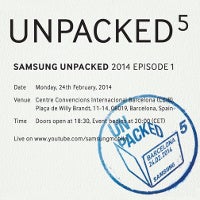 The
Samsung Galaxy S5
was
supposed to launch at a "low-key" event
at Mobile World Congress, but if what we saw was low-key, it's hard to imagine what a high-key launch for Samsung would look like.
Yes, Samsung booked a huge hall sitting thousands of people and it was packed! Huge displays showed Samsung's new devices to the world and Barcelona's Opera House Chamber Orchestra took care of the music.
Samsung's own president JK Shin unveiled the Galaxy S5 on stage and the new flagship was shown from all angles with demonstrations for every tiny feature.
Needless to say, you should watch it if you missed it - it's all right below.