Samsung patented a Gear VR with eye and face tracking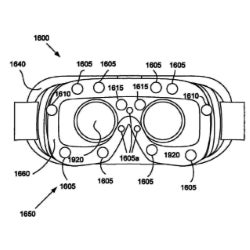 A recently published Samsung patent application makes it apparent that the company is working on a new Gear VR headset with eye and face tracking features. Adding such capabilities to the headset will get rid of a considerable disadvantage, as more advanced headsets like the HTC Vive and Oculus Rift come with face tracking and are able to operate stand-alone (though connected to a computer).
The patent drawings show the Gear VR headset updated with embedded sensors such as electrooculographic and infrared sensors for tracing eye and facial expressions. The patent was filled in May this year, but it's anyone's guess when Samsung might reveal the upgraded Gear VR. It could potentially happen with the introduction of the
Galaxy S8
line-up around March next year.