Samsung i730 phone to support WI-FI and Bluetooth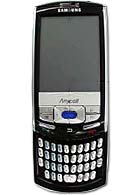 According to a recent FCC filing, the upcoming Samsung SCH-i730 EV-DO Pocket PC smartphone will also feature Bluetooth and WI-FI. The device is expected to be available first from Verizon Wireless, which already operates EV-DO data network.
The phone will sport 2.8inch QVGA (240 x 320) 65k color touch-sensitive screen,
1.3
mega
pixel
camera, slide-out QWERTY keyboard. The price and the exact availability are currently unknown.