Samsung i500 Smart Phone Delayed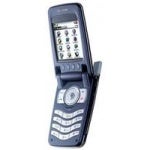 Samsung unveiled the SGH-i500 in March of this year.
It was the first smart phone to be announced with Palm OS 5.2 and a camera.
According to a company spokesperson, the handset won't be available this year.
The SGH-i500 is clamshell model that will have 32 MB of RAM and 32 MB of ROM. It will use an Intel PXA262 processor at 300 MHz.
It will run on GSM/GPRS (900/1800,1900) wireless networks, which means it can be used worldwide. It will offer both voice and data capabilities.