Samsung i400 is Symbian S60 smartphone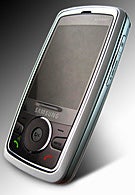 At S60 summit in Madrid, Spain, Samsung yesterday announced the SGH-i400 smartphone running on Symbian S60 operating system. It is Samsung's second new S60 phone (after the i520) as earlier models based on this OS didn't reach a commercial availability (i.e. D720 and D730). The i400 is nothing special in terms of specifications, being tri-band GSM with QVGA display and 2-megapixel camera but is well looking smartphone with curved lines, rounded design, and 15.8mm (0.6 inches) thickness.
Samsung i400 will be released in Russia from July and in other European countries later.