Samsung had Note 4 promos with insanely cute animals before it was hip (video)
5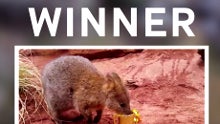 Google might have had a field day recently with its
"Friends Furever" promo video
, but Samsung did it before it was hip. Did you know that the Note 4 has heart-melting commercials with furry friends that extol the virtues of its excellent 16 MP camera with optical image stabilization?
Well, it does, and it is a smorgasbord of sea otters, blue penguins, and one we'd never heard of - a quokka, which is destined to take over even a drug lord's heart.
As you can see from the thumbnail, the quokka was the one that took the cutest award home, stuffed with whatever it is that quokkas eat, but the runner-ups did no worse, too, so it's all a matter of your personal cute-o-meter. Check out the videos below, shot entirely with the optically-stabilized camera on the Samsung Galaxy Note 4.