Samsung getting snarky at Apple again, this time about apps
47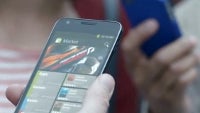 Apart from its ad that was
subtly mocking people waiting in line for an iPhone
and went viral the other day with more than two million YouTube views, Samsung has another one in store.
The new piece is shorter and is focused on the fact that Android Market has exploded in terms of the number of applications you can find there that were previously available only at the App Store. Well, save for a number of mobile games, audio and tablet applications, but from a sheer number standpoint, Android's apps are not trailing iOS.
The guy rightfully concludes that he can also try the app out before buying, and also pranks the iPhone crowd into thinking the line has moved, pretty funny to watch.