Samsung finds problems at contract manufacturer HEG
12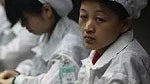 In the wake of a claim by New York based China Labor Watch, in which it was
reported that Samsung's contract manufacturer, HEG Electronics Company was using under-aged labor
, Samsung sent its own team to the plant in Huizhou, China.
A previous investigation conducted by the city's own authorities did not uncover any children under the age of 16, China's minimum legal working age. Samsung did find some problems at the plant and fortunately, none of those problems indicated the use of child labor.
What Samsung did find however, are "several instances of inadequate management and potentially unsafe practices" at the HEG plant. Samsung also said that it was conducting check of all its facilities in China and will be sending out a team of 100 Samsung employees to canvass all 105 Chinese suppliers the company works with by the end of this month.
source:
Wall Street Journal