Samsung announces GT-B9120 – flip form factor and Android collide
10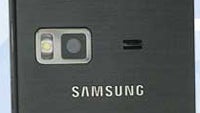 One casualty of the smartphone revolution has been the flip phone. While that may be welcome by many, Samsung has announced a new Android powered device that will sport the old familiar flip form factor. Meet the GT-B9120.
Slated to hit the Chinese market the GT-B9120 is a dual screen Android 2.3 Gingerbread handset. Each screen is 3.5-inches with a 480x800 resolution. Inside the device is running a 1.2GHz dual-core Qualcomm Snapdragon processor, 1GB RAM, 16GB of onboard storage, HSPA, Wi-Fi, Bluetooth, GPS, 5-megapixel rear facing camera, and a 1.3-megapixel front-facing camera.
Unfortunately there is no word on pricing and we don't expect this to come stateside, but it is an interesting mashup of form factor and operating system.