Samsung Vibrant makes a cameo appearance with its own video teaser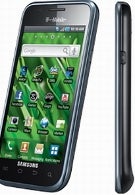 The Samsung Vibrant for T-Mobile is now a star in a video clip like some other US carrier versions of the
Galaxy S
. Leave it to marketing gurus to combine animated selling points with catchy tunes, and the promo clip doesn't disappoint in the multimedia aspect. It is actually pretty enticing - in two minutes it lists all major features, while blasting the competition visually.
The thing that caught our attention most is that Samsung's Media Hub was mentioned as a service at the end of the promo - obviously T-Mobile expects it to be fully operational by the time the phone launches this month. It will be interesting to see what entertainment options Media Hub will be offering, given
Samsung's claims
that it has contracts with some of the biggest names in show business.
Samsung Vibrant Specifications
source:
AndroidGuys