Samsung Unveils Mobile Phone with Color LCD and 40-polyphonic Ring Tone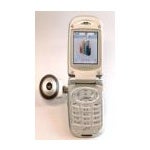 Earlier this month Samsung Electronics introduced a new phone which "takes sound quality to new heights". The SCH-X290 has 40-polyphonic melodies and improves on their last year's model with 16-polyphony melodies. 40-polyphony generates sounds very close to those experienced in nature.
An externally mounted camera is also included, which will allow the user to take still photos with the SCH-X290 and send them wirelessly. The color STN-LCD is large enough to accommodate 12 lines of text, making Web browsing and other multi-media functions easier to use.
"The SCH-X290, with color LCD and 40-polyphonic ring tone, will be available in stores next week before Lunar New Year holidays (only inside Korea). The 16-polyphonic ring tone models have been market leaders so far, but the SCH-X290 will raise the competitive stakes considerably."