Samsung U940 is the Verizon's variant of the F700
49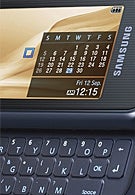 UPDATE:
Our internal source confirmed that Verizon Wireless version of the F700 will be actually the
Samsung SCH-U940
which will make its appearance in a few months.
As of now, all we know about the U940 is that it will feature a fullTouch-Screen on the front (440x240 pixels), have a slide out QWERTYkeyboard, and will have a 2MP Camera (instead of 3MP as on the F700).
We are unsure as to what the User Interface on the U940 will look like,but our guess is that it will be different than the F700. View our preliminary
Samsung U940 specifications.