Samsung U550 for Verizon Wireless

The big news today was that Verizon introduced their unlimited calling plans. While at the same time they more quietly launched their mid-level Samsung U550 phone, which replaces the U540.
We were the first to bring you
spy pictures of the U550
last year. The only changes with the U550 is the color and styling, as well as being able to use an 8GB microSDHC memory card. It still has the same 176x220 pixel internal display, 1.3MP camera, external music controls, speakerphone, and Bluetooth.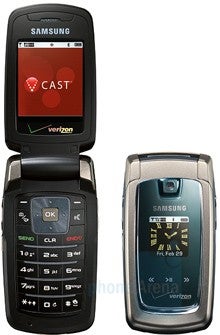 Pricing of the new U550 is $69 after a $50 mail in rebate, with a 2 year contract. The older U540 has now been reduced to $49 after rebate, with a 2 year contract.
source: Verizon Wireless