Samsung TIZEN phones reportedly moved to 2013, focus is on Android and Windows Phone 8
7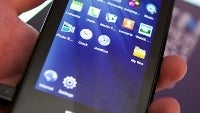 Samsung
promised some devices with its newfangled TIZEN mobile OS
, developed in collaboration with Intel, to be coming this year. These plans have allegedly been scratched, and
Tizen's commercial introduction moved to next year
, due to the complete resource focus Samsung will now have to pay to its huge Android lineup, and the
upcoming Windows Phone 8 handsets
in the pipeline.
Handsets with bada OS are also not in the cards for this year, as bada might be ditched altogether or
merged with the Tizen project
. Last year at IFA there were some bada phones announced, but this year the situation is different.
Samsung is reportedly planning some heavy Android announcements for the holiday season, as well as trying to
reclaim more Windows Phone space
. Developers that signed up for the
Tizen prototype
of Samsung are probably not happy campers now.
Recommended Stories